Inspiration can be found in many places. Some times I find it in doors, details and other corners in my own city or while traveling. Other times I am inspired by fellow creative minds — artists, photographers, designers, or people who simply make beautiful and innovative things. That is why today's post is a mix of my love of photography, interiors, chromatic textures and textile design.
All the beautiful photos in this post were taken by various home and interior photographers represented by Sarah Kaye in London — one of my sources of inspiration. Blues, whites, grays and greens are my favorite at the moment. I love how the above images use white and pastels to frame the darker colors in the image, giving it a cinematographic air.
Notice how harmonious the neutral color palette is, and how it comes alive when accented with a bright color. Rough and rustic textures are balanced with the delicateness of unvarnished ceramic objects.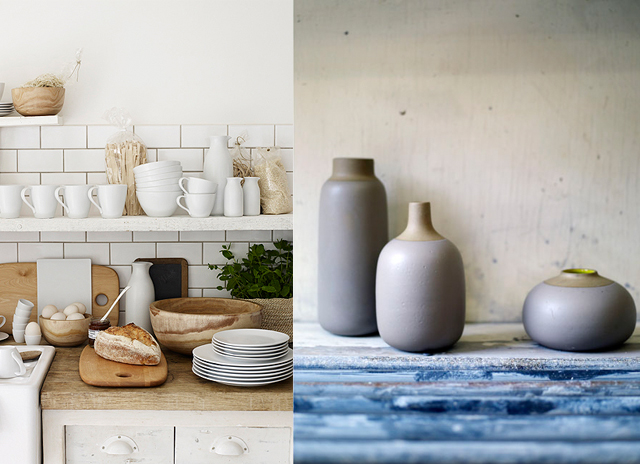 The moodiness of the lighting and the wonderful styling give the objects a life of their own — as if they were already there when the photographer captured them.
BiniChic is the juxtaposition of contemporary and classic, rustic and polished… The images in this post are a great point of reference for the BiniChic philosophy.
Bright colors are happy by definition. They are even livelier when contrasted with distressed surfaces in pastel tones.
Jewel tones on rich, dark velvet fabrics are another one of my favorite combinations. The following images feel like they could perfectly be the setting for a romantic 19th Century Victorian novel.