I believe that what makes a project "great" is the designers' ability to take a good concept and give it shape with an original design, solid quality and a sustainable production. Fellow designers and dear friends of ours, Ivana Blaž and Nina Mršnik of Kobeiagi Kilims, are the brains behind this great new project. Their love and lifelong admiration of handmade traditional Bosnian kilims led them to create a line of handwoven rugs with their own contemporary designs.
Originally from a small Bosnian town, Ivana is a citizen of the world. She studied architecture in Venice, and later moved to Barcelona, where we met and became good friends while getting our Masters at Elisava. She finally settled in Ljubljana (Slovenia), where she is currently living. It was there that she reunited with Nina, with whom she had studied in Venice, and together they collaborated on various projects — one of which we featured in an earlier blog post — in the areas of illustration and architecture.
Nina is a very talented designer and illustrator who has worked with some of today's eminent names in the world of design and architecture. She got her MA at the renowned Royal College of Art in London. I knew that ever since Ivana and Nina moved to Ljubljana they had wanted to create a project together that was dear to their hearts and which would allow them to grow as designers while giving back to the community. Kobeiagi was that project.
Ivana has been surrounded by kilims since early childhood, since they are an indispensable element of décor in many homes in former Yugoslavia. Apart from being used as regular carpets, i.e. placed on the floor, kilims are regularly featured on walls, sofas and beds. Due to a disappearing labor force of artisans (making each piece almost a relic) and changing tastes, these days traditional kilims are harder to find in modern homes.
This  decline in popularity is why they decided to give the kilim a new life through the use of fresh patterns, following the latest trends in world design.
As Mršnik and Blaž perfectly state: "The idea of starting the 'kilim revival' project had been on our minds for quite some time before it ripened; but after our visit to Bosnia and Herzegovina, where we saw with our own eyes that almost nobody continues to practice this traditional craft these days, we decided to step into action.
On that same occasion we also accidentally made the acquaintance of Mrs Lejla, the driving force behind the small community of women in Visoko who to this day continue the production of kilims. We were completely fascinated by the weavers' skills; we immediately found common ground and started collaborating."
Their designs are whimsical and timeless — and yet they perfectly retain and capture the many hours of savoir-faire and dedication an artisan woman has spent weaving it into creation.
Through their Kickstarter campaign, Mršnik and Blaž want to open a new chapter in the revival of the kilim's popularity. They believe that its high quality, combined with a freshened and unique design, enables the kilim to rise above the huge supply of cheap carpets of mass production.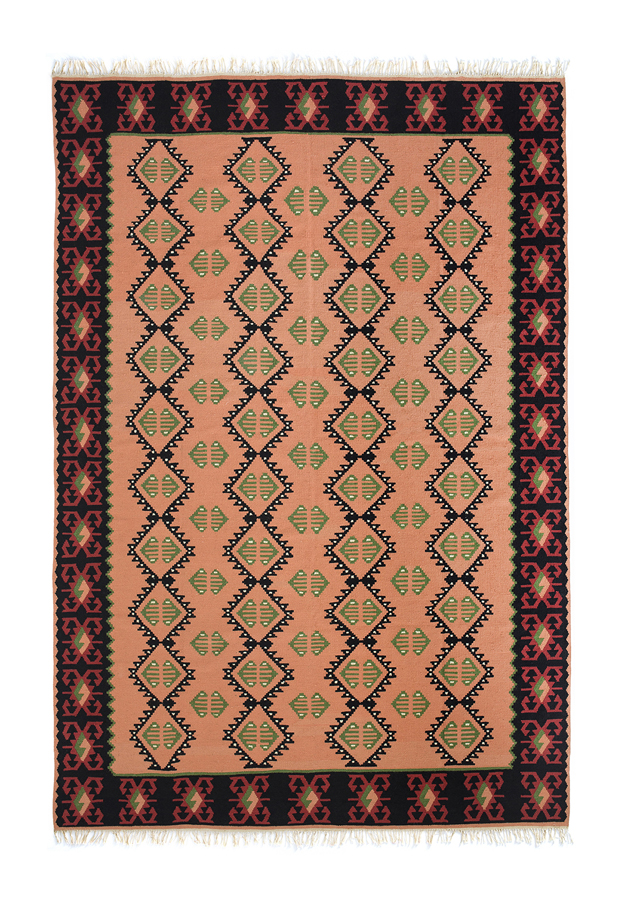 The weavers use exclusively local wool, which is renowned for its superior quality. Wool is a remarkable material, as its thermo-regulating properties allow it to keep one warm in the winter and cool in the heat.
Every kilim is unique and it is the result of concentrated, patient handicraft; thus a kilim of 100 cm x 70 cm takes 4 days to realize, while the largest kilim with the dimensions of 200 cm x 300 cm takes a good six weeks!
They named the rugs after their favorite people, and each piece is sure to become part of your family as it transcends trends and becomes an heirloom to be passed down through the generations.
I am very excited to see this project come to fruition and receive my Kobeiagi kilim in a couple of months… now I just have to make up my mind and decide which one to pick!
https://www.facebook.com/KobeiagiKilims
https://instagram.com/kobeiagi_kilims/