I finally have the time to sit down and write a proper post. We've been so busy lately working on different BiniChic projects, that it's been hard to find the time to tell you all about them. We have some exciting news today: our bedding collection is here! Yes, you read that right — BiniChic partnered up with WestPoint Home and designed a beautiful, quality and affordable line of bedding.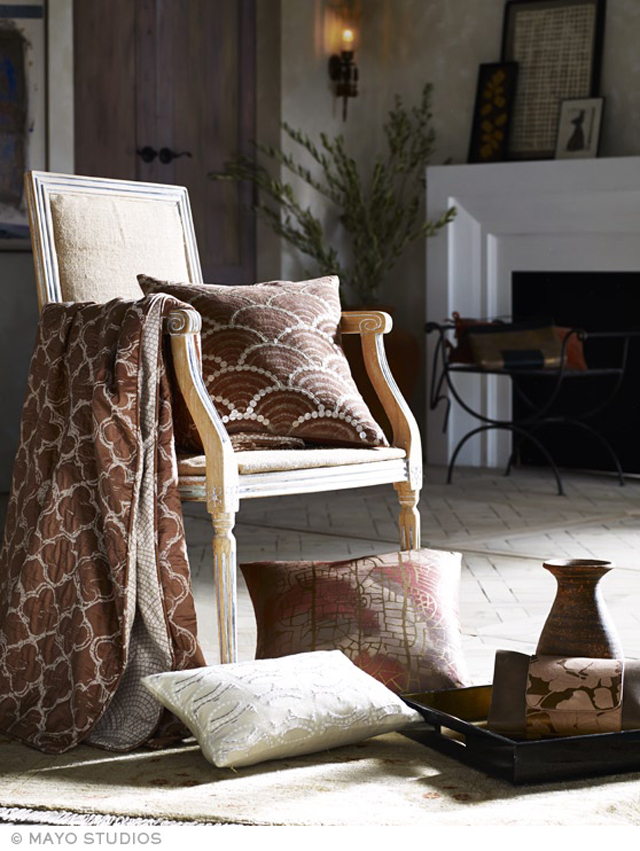 Having our own line of bedding made perfect sense: our BiniChica Susan Unger has spent most of her life creating poetry with fabrics, so this was a natural extension of our brand. We delved into the BiniChic archives and created mood boards that represented the different "vibes" of the BiniChic Lifestyle.
Together with the talented team of designers at WPH, we selected our favorite moods and made artwork which they then used to create the duvets and pillows.
The BiniChic Bedding is inspired by the Mediterranean Island way of life mixed with a fresh modern take on bohemian vintage of Fortuny and Barcelona's architecture. We wanted a collection that speaks of craftsmanship for today's world — something that reminded you of that wonderful trip you took to the Mediterranean (or that you've always dreamed of taking). Easy to live with, it is refined and traditional.

The image above is of the Terracotta bed. Inspired by Spanish mosaic floors and glass windows, the top-of-bed is a mattelasse jacquard handdrawn quatrefoil motif in ivory on a warm terracotta ground.
The Terracotta bed transports you … the warm sun is coming through the trees and houses while you stroll down Barcelona's winding streets in the Barri Gòtic….

We wanted our bedding to be both beautiful and practical, so we made all the duvets reversible. This way, you can create an entirely different look and feel as easily as turning the duvet over.
The Terracotta reverses to a 300-thread-count cotton sateen, which feels very soft and rich to the touch. The motif is an off-white scalloped mosaic texture that is reminiscent of the street pavements the ancient Romans made while in Barcino (that was Barcelona's name during Roman times).
To go along with the duvets, we designed a series of pillows that highlight the rich heritage of the BiniChic Bedding. The Stained Glass is a design from the Susan Unger archives. Susan was inspired by the windows in a Romanic church in Barcelona. She created the effect of the stained glass by silk-screening the outline of the window in metallic over a colorful hand-painted background.
WestPoint did a wonderful job of interpreting it in this decorative pillow:
The white-on-white embroidered pillow is also cotton sateen, and adds an airy touch to this warm bed. Its design is another interpretation of the Mosaic motif, inspired by one of the many mosaics from Tarragona, an important colony in ancient Rome.
The Scallop motif reappears in this square pillow featuring mother-of-pearl buttons and silk embroidery on cotton velvet. We love the richness of the details.
Foscari is the name of Fortuny's Venitian Palazzo, as well as that of our second bed. Originally from Barcelona, Mariano Fortuny was well-known for his innovations in textile creation and for his marvelous atelier-palace in Venice. Since he's always been an icon to us, we thought it would be appropriate to name this bed after his home.
With this bed, we take you on a trip to the Venice of another time … through the tapestry-covered salones of Fortuny's Palazzo, filled with rich velvet draperies and vintage lamps.
The main motif of the Foscari bed is a hand-drawn damask pattern from our archives. Printed on a 300-thread count cotton sateen with a textured ground in foggy aqua and subtle metallic highlights. This bed feels very lavish and elegant.
The reverse of the Foscari bed is a linen-like fabric printed with branches and falling leaves in subtle metallic ink. We really like the feeling of rough-luxe that comes from the juxtaposition of the front and the reverse of this bed.
The oversized lumbar pillow is a restful lotus flower embroidered on a cotton sateen. It pairs very nicely with the Tree of Life, which is printed on cotton velvet with appliqued metallic leaves. These designs of ancient symbols are from the Binichic archives. They both feel like they could be items from Fortuny's prized collection of antique artifacts from faraway lands.
Metallic embellished pillows give a sense depth an add to the "luxe" aspect of the bed. In the 18″ square, we love the contrast between the cross-dyed tafeta background and the wool embroidered leaves scattered across it. The bolster with sequins reminds us of an old botanical illustration.
Eclectic, sensual and contemporary. Stay put for more information on where to get your own BiniChic bedding!