S'Olivera is the name of our home on the Menorcan countryside. In catalan it means the olive tree. Funny, because in Menorca, the olives are tiny and almost wild.
But I like the idea of the house being named for a tree.
When we bought the property in 1978, it was an unused group of buildings–cottage, barn, stable, and farmhouse–surrounded by fields.
We loved the way each building had its own personality based on its function,
and all of them were organically constructed side by side.
Some with stones, some with blocks of quarried sandstone ;
the hay barn tall and spacious became a studio with a hallway to the kitchen.
The sheep stable low and long …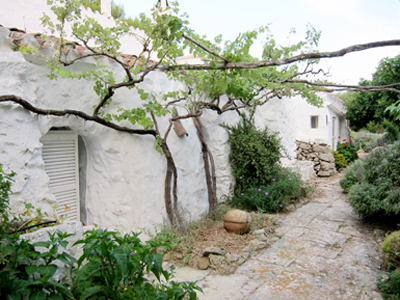 … became the bedrooms.
The rabbit hutch is the guestroom.
The original cottage was transformed into the kitchen,
…the bathroom — where we kept the original tiling…
… as well as a terrace overlooking the garden.
The cottage sits high and dry over a cistern.
We tried to keep the character of each part while connecting them to make our home whole. The full design and construction process took about two years and four people to complete. Now, thirty years after its construction (or re-construction) we are thinking about what s'Olivera's next metamorphoses will be.
In following posts, we will continue to explore the home's roots, its construction and vernacular architecture, as well as what it's future remodeling might look like. We'll stay posted!