As many of our readers probably know, BiniChic embodies for us the Mediterranean as a lifestyle and a place. Through our blog and designs, we aim to bring you closer to its characteristic light, colors, art and culture — the impalpable things that make it so special and unique. Designed and hand-printed in Barcelona, we developed the BiniChic T-shirt Collection as a way to share and wear our vision of the Mediterranean.
The collection of limited edition t-shirts is divided into four prints, each representing an aspect of our Mediterranean heritage — and the different women that we imagine wearing our t-shirt designs. We delved into our creative vaults to find some iconic prints by our co-founder Susan Unger. Each design was selected to create a varied and balanced range where everyone could find something they liked.
The Ikat print (pictured above) is inspired by the Llengües, the traditional Mallorcan method of weaving dyed threads into zig-zagged prints we posted about some months ago (pictured below). We gave it a new approach by using Nordic-inspired colors, such as ice green, warm grey and ancient gold, adding elegance and versatility to this traditionally bright print.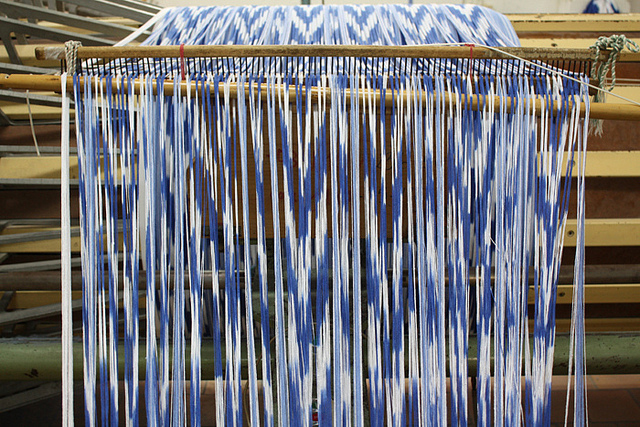 Each design is directly inspired by our experience and our relationship with the Mediterranean. The cut of the t-shirts — a loose tank top with a racer back and a t-shirt with a rounded scoop neckline — are easily worn by women of different body shapes and lifestyles. The t-shirts come in white, pink, taupe and black, depending on the availability of the print.
Most of the photos throughout this post are from our recent visit to the Cyclades — the epitome of the Mediterranean lifestyle (that is, besides our home-island of Menorca)
Fresh and summery, the Wave print is the perfect complement for a day by the beach or at your summer destination. An updated version of an original Susan Unger design, we wanted to create the feeling of "Postcard from the Sea" by combining the illustration with a handwritten excerpt of a poem about the waves below and the two BiniChic stamps on the upper left corner.
The Egret on the Fauna print was inspired by the elegant birds that flock yearly the Menorcan Reserve of the Biosphere in s'Albufera des Grau. In tones that remind us of sandy walls and earth tones from volcanic beaches, we combined the main print in warm gray with a flock of japanese-inspired birds printed in Ancient Gold.
The Olive Tree is one of our favorite motifs, one with which we greatly identify. A symbol of peace, wealth and good health, this resistant and ancient plant is believed to have been cultivated as far back as 7000 years ago.
This tree has always had a strong presence in our lives. It was the name given to our home in Menorca, S'Olivera. Later, Susan developed a line of products including lacquerware for J.Fleet and home furnishings inspired by the elegant movement of the olive branches. Incidentally, my husband's family makes a delicious Tuscan Extra Virgin Olive Oil, (look out for it soon on BiniChic!) — further making this our "family tree".
We reinterpreted this classic Susan Unger print to create a t-shirt that never goes out of style. The Antique Gold that Susan used throughout her collections gives a touch of glamour to a t-shirt easily combined with any look.
Comfortable and elegant, trendy and classic — which BiniChic T-shirts best represents your style? We'd love to hear your comments!
If you'd like to see the entire collection, visit our BiniChic Store here.